Regular price
$149.90
Sale price
$99.90
Unit price
per
Sale
Sold out
Elevate Your Living Space with Dual-Purpose Elegance
Key Highlights:
Space-Saving Design: Maximizes storage without occupying much room, perfect for apartments and smaller spaces.
Elegant Design: Crafted with premium Bouclé fabric for a touch of sophistication.
Versatile Storage: Ideal for kids' toys, shoes, blankets, pillows and more.
Lightweight & Portable: At just 5.8kgs, it's easy to move around and reposition as needed.
Dual-Purpose: Serves as both a plush footrest and a spacious storage solution.
Description: Elevate your space with our elegant Bouclé Ottoman. Beyond its plush comfort for your feet, it's a storage marvel. Perfect for tucking away kids' toys, shoes, or cozy blankets, this Ottoman declutters with finesse. Whether it's in the living room or the bedroom, it merges style and functionality effortlessly.
Specifications:

Dimensions: 30(h) x 56(d) cm
Color: White Essence
Capacity: Supports up to 90kg
Net Weight: 5.8kgs
Quick Assembly: Ready to use in just minutes.
Material: Bouclé
Shipping & Support:
Fast Dispatch: Ships within 24 hours of purchase.
Transparent Fees: No hidden charges.
Peace of Mind: 14-day money-back guarantee if you don't absolutely love it.
Delivery

Shipping Details:

1. Free Shipping: Orders placed within Australia (excluding WA) qualify for free shipping.
2. Shipping Times: We strive to process and ship orders promptly. Typically, orders will be dispatched within 1-2 business days. Please allow an additional 3-7 business days for standard delivery.
3. Shipping to Western Australia (WA): Standard delivery to customers in Western Australia is available at a flat rate of $20.
4. Shipping Carrier: We use Australia Post for processing and delivering all orders.
5. Order Tracking: Once your order is dispatched, you'll receive a tracking number via email to monitor the status of your shipment through Australia Post.

Feel free to reach out to our customer support if you have any questions or need further assistance regarding shipping.
FAQs

Q: How can I make the most of my storage ottoman?
A: Our versatile storage ottomans are designed to provide efficient storage solutions. Utilise them to store toys, blankets, pillows, shoes, and any other household items you need to keep organized and tidy.

Q: What are the dimensions of the ottomans?
A: We offer a range of ottoman sizes to suit your preferences:
• Rectangle Ottoman: Width 40cm, Height 40cm, Length 80cm
• Extra-Large Rectangle Ottoman: Width 40cm, Height 40cm, Length 110cm
• Circular Ottoman: Height 30cm, Diameter 56cm
• Large Circular Ottoman: Height 35cm, Diameter 60cm

Q: Are the ottomans easy to clean and maintain?
A: Yes, our ottomans are designed for easy maintenance. Simply wipe down the exterior with a damp cloth and a mild cleaning solution to keep them looking fresh and clean.

Q: Can I use the ottoman as a coffee table?
A: While our ottomans are primarily designed for storage and seating, they can also double as a coffee table with the addition of a tray or a flat surface. Simply place a tray on top to provide a stable area for drinks, books, or other items.

Q: Can I use the ottomans for seating?
A: Yes, our Rectangle Ottomans are designed to support seating comfortably. However, for our Circular Ottomans, while they can support seating, it's recommended to primarily use them as a footrest. If excess force is applied, the lid may collapse in on itself.

Q: Is assembly required for the ottomans?
A: Yes, our ottomans come flat packed and require minimal assembly, which takes no longer than 30 seconds. We provide easy-to-follow assembly instructions to ensure a quick and hassle-free setup.

View full details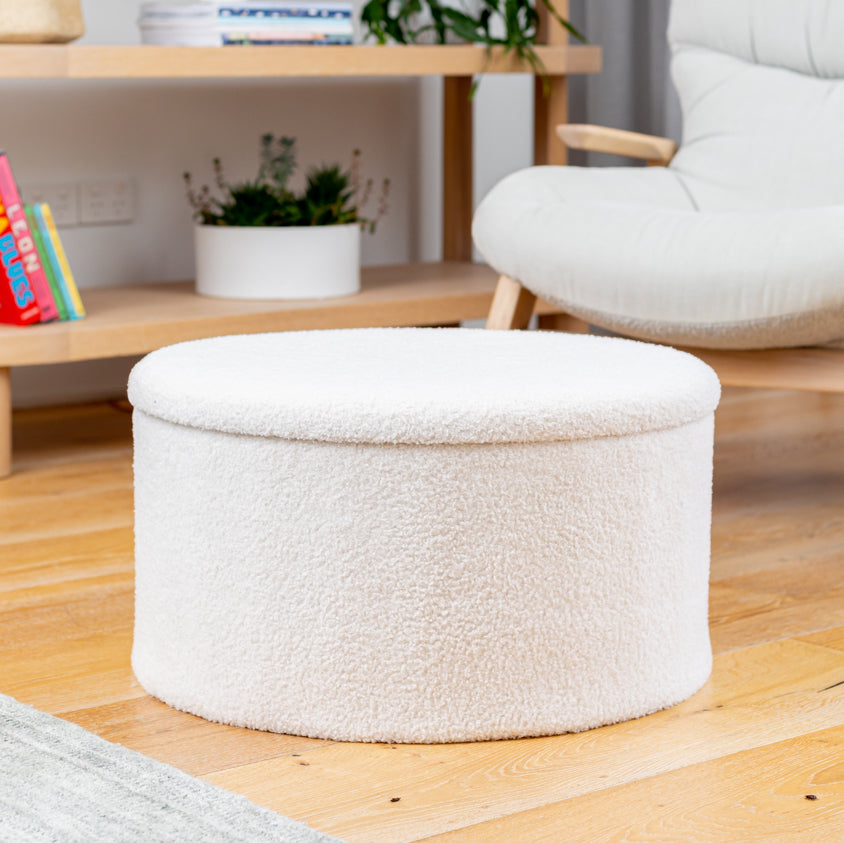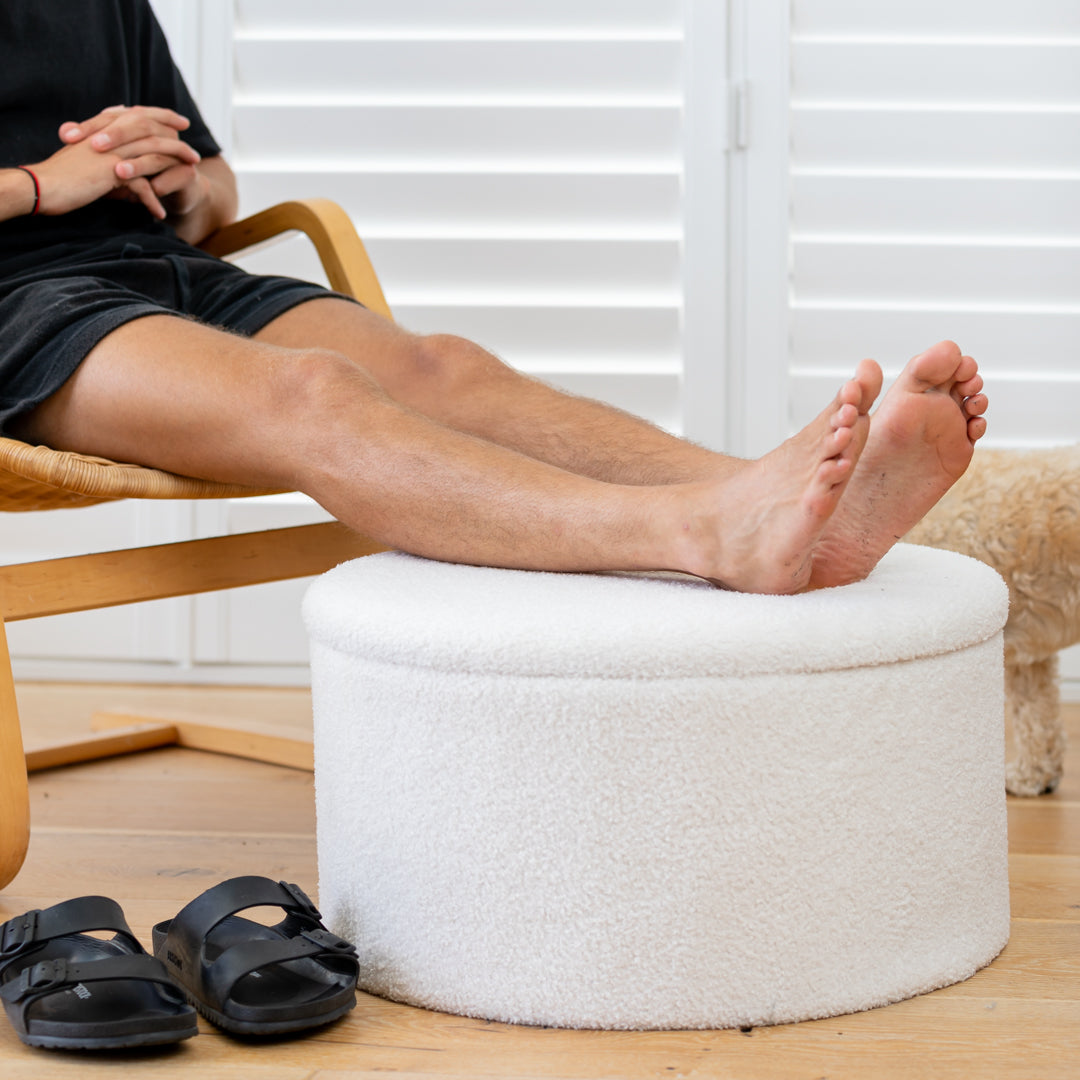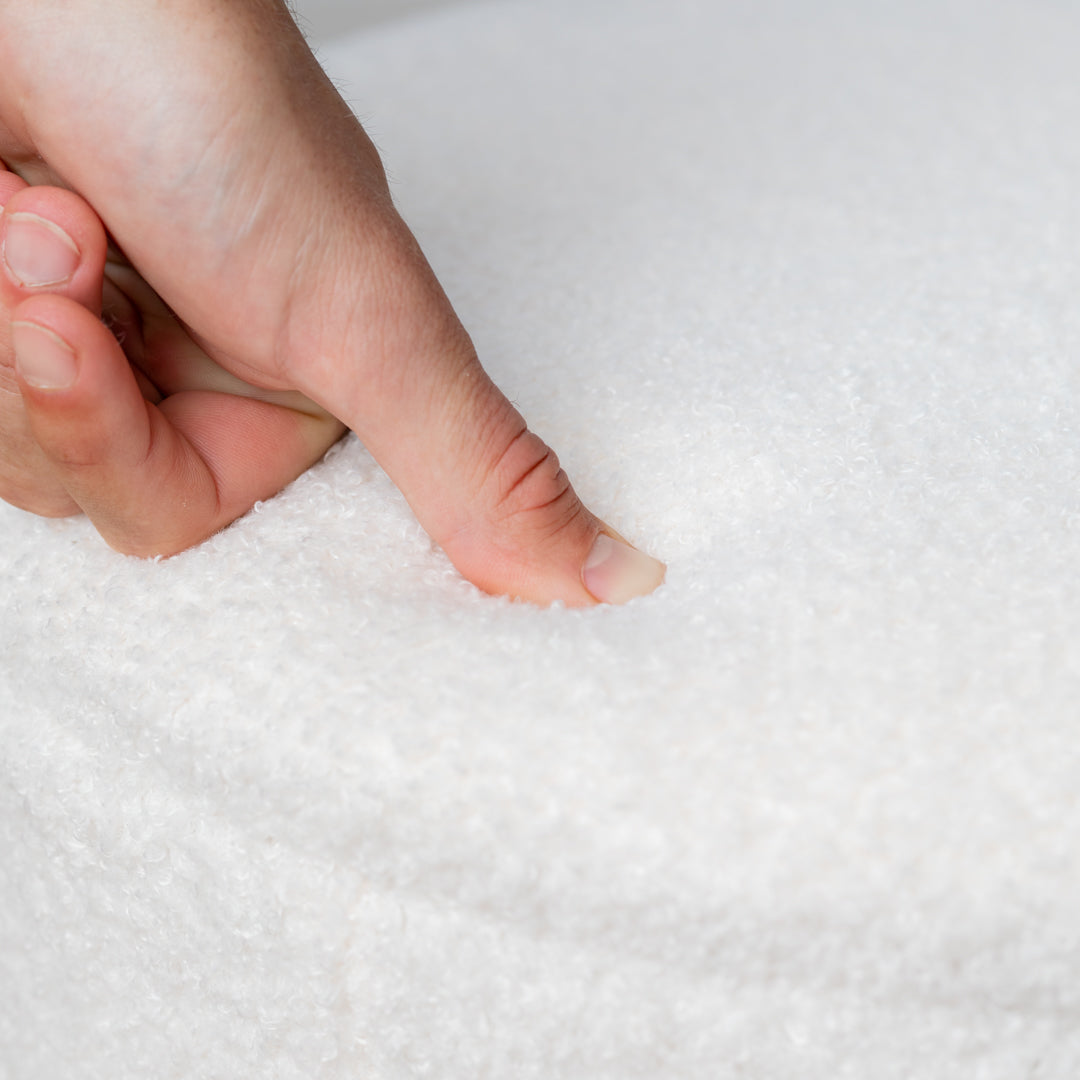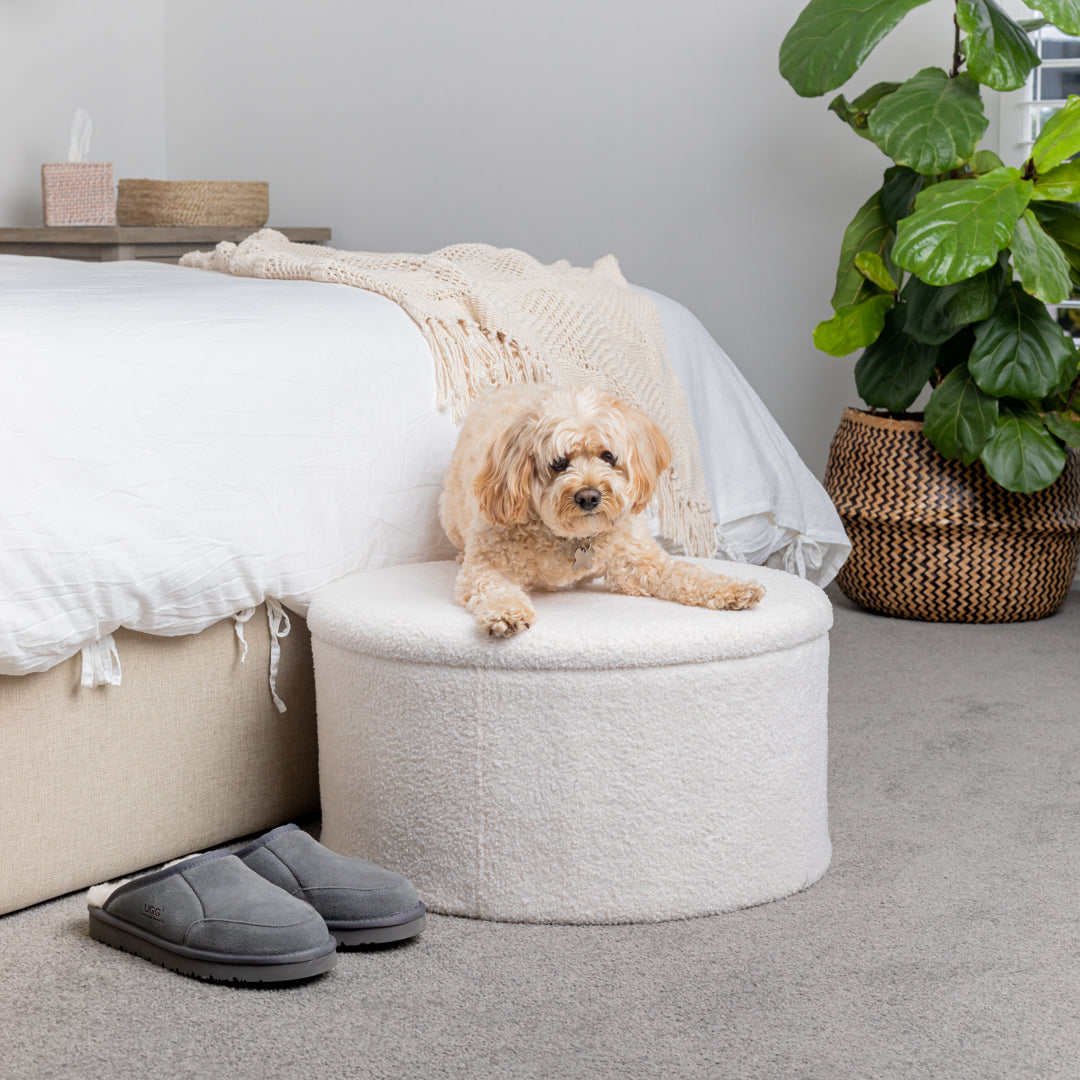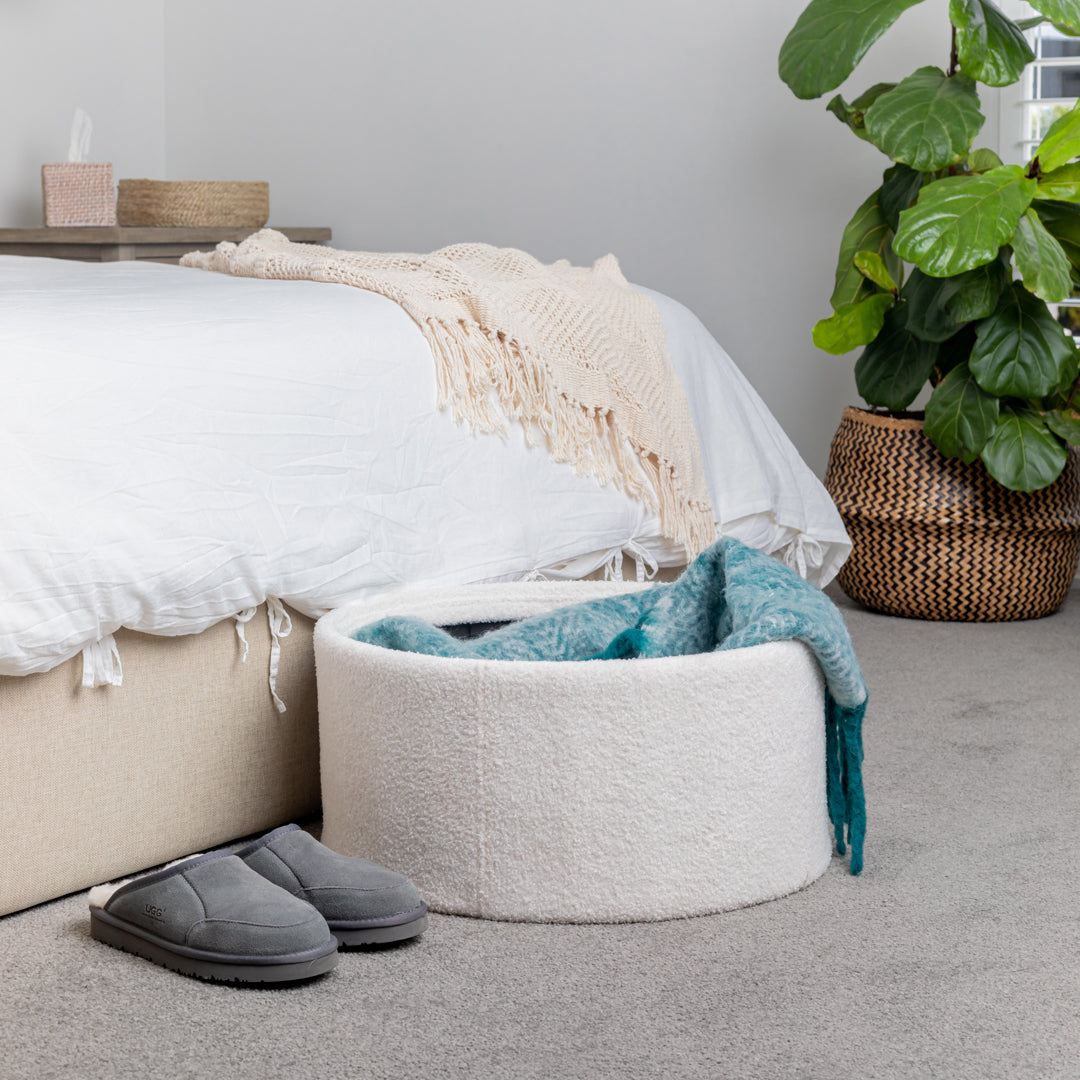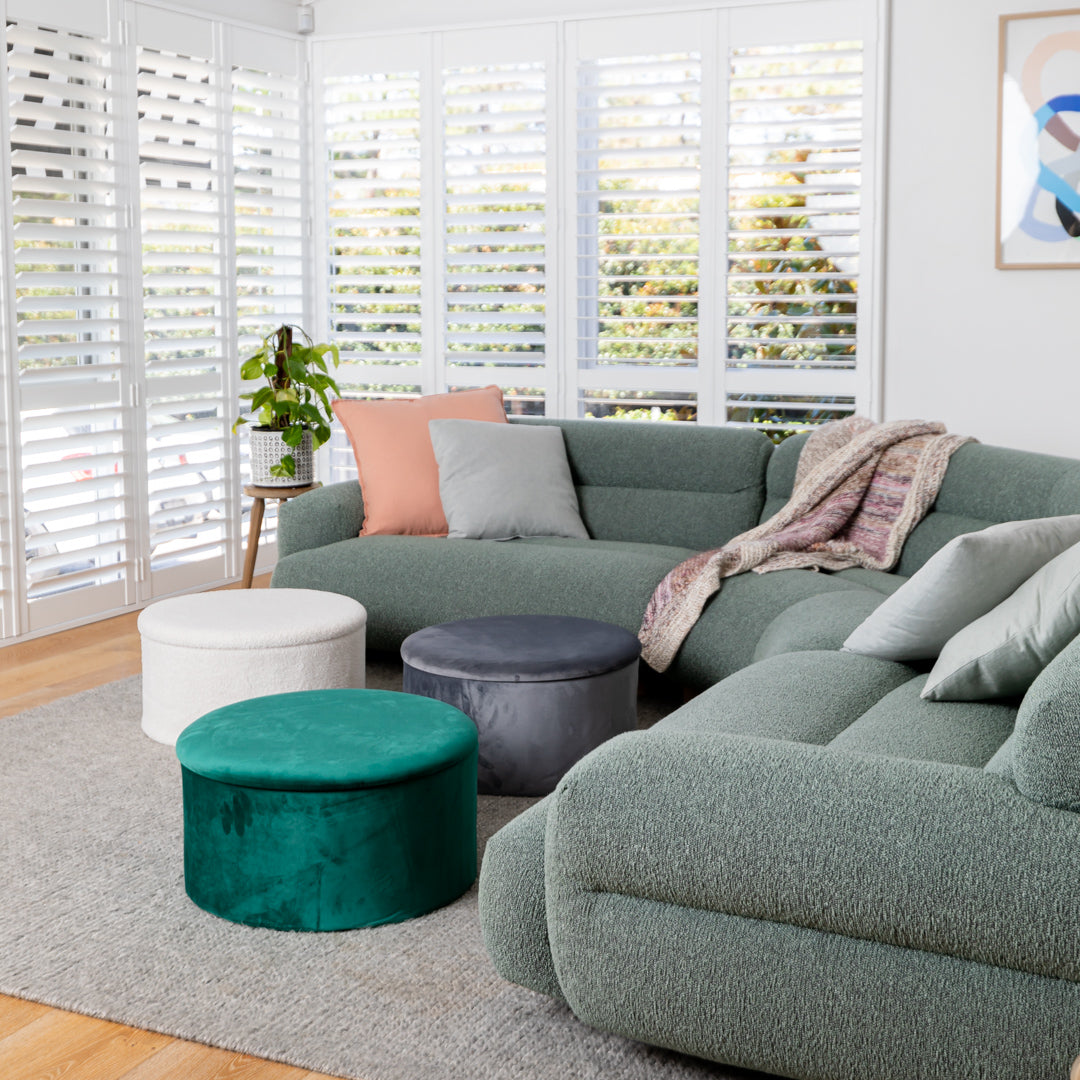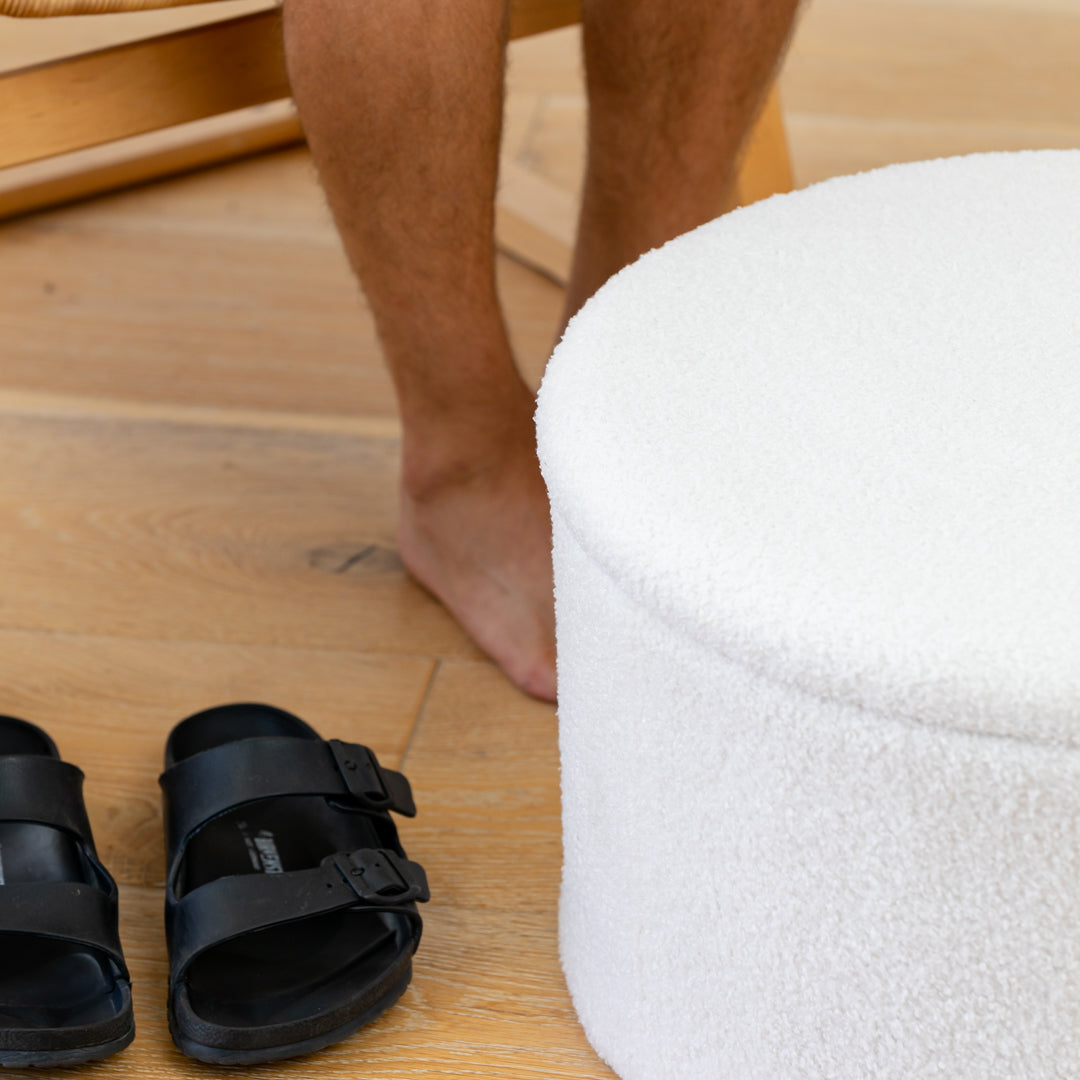 Perfect ottoman
Ordered this not knowing anything about Dicor previously, i was worried about the quality but im soooo glad i ordered. Its the perfect size and quality, plus great amount of storage. Really strong too bcs i was worried about my boyfriend sitting on it at first but it held up great.
I LOVE IT
is a beautiful product i recommend so much this store, easy to assemble and very good quality.
Perfect Foot Rest
Exactly what I needed. This is my second purchase! Super soft, and a great height to rest my feet when working long days at the desk. Handy storage space too for note pads and computer parts.
Such an awesome purchase!
My white boucle ottoman is so soft and nice to use. It's also incredibly sturdy and can fit a whole bunch of things from around your living room.
I pulled the trigger on this ottoman cause it was so much cheaper than most when I was looking online, and I'm so glad I did!