Regular price
$119.90
Sale price
$89.90
Unit price
per
Sale
Sold out
Available colours...

&nbsp

The Pet Ottoman. Our signature, double use Ottoman perfect for those pet owners struggling with space.

This double purpose Ottoman will provide the warmth and comfort for your beloved pet deserves, whilst providing your legs and feet with comfort they desire.

Specifications
- Outside Dimensions: 78 x 36 x 36cm
- Colour: Charcoal
- Weight capacity: 90kgs
- Product weight: 6.3kgs

Features
- Stylish, Faux Linen Fabric
- Soft cushion-top seat
- Generous storage space
- Soft, cushion like fabric for your pet on the internal base of the Ottoman
- Small cut out for the entry/exit for your pet
- MDF Board construction
- Removable, dual purpose lid (for placing drinks/food)
- Materials: Faux Linen, Nonwoven Oxford Cloth, Loop Velvet, Sponge, Metal Pad, MDF Board

Package Contents
- Rectangular pet ottoman
- User Manual
- Washing label


This product requires self assembling. Though, should take you no longer than a few minutes!

Although this product can withstand 90KGs, we recommend not sitting on it, whilst your pet is in it.
Delivery

Shipping Details:

1. Free Shipping: Orders placed within Australia (excluding WA) qualify for free shipping.
2. Shipping Times: We strive to process and ship orders promptly. Typically, orders will be dispatched within 1-2 business days. Please allow an additional 3-7 business days for standard delivery.
3. Shipping to Western Australia (WA): Standard delivery to customers in Western Australia is available at a flat rate of $20.
4. Shipping Carrier: We use Australia Post for processing and delivering all orders.
5. Order Tracking: Once your order is dispatched, you'll receive a tracking number via email to monitor the status of your shipment through Australia Post.

Feel free to reach out to our customer support if you have any questions or need further assistance regarding shipping.
FAQs

Q: How can I make the most of my storage ottoman?
A: Our versatile storage ottomans are designed to provide efficient storage solutions. Utilise them to store toys, blankets, pillows, shoes, and any other household items you need to keep organized and tidy.

Q: What are the dimensions of the ottomans?
A: We offer a range of ottoman sizes to suit your preferences:
• Rectangle Ottoman: Width 40cm, Height 40cm, Length 80cm
• Extra-Large Rectangle Ottoman: Width 40cm, Height 40cm, Length 110cm
• Circular Ottoman: Height 30cm, Diameter 56cm
• Large Circular Ottoman: Height 35cm, Diameter 60cm

Q: Are the ottomans easy to clean and maintain?
A: Yes, our ottomans are designed for easy maintenance. Simply wipe down the exterior with a damp cloth and a mild cleaning solution to keep them looking fresh and clean.

Q: Can I use the ottoman as a coffee table?
A: While our ottomans are primarily designed for storage and seating, they can also double as a coffee table with the addition of a tray or a flat surface. Simply place a tray on top to provide a stable area for drinks, books, or other items.

Q: Can I use the ottomans for seating?
A: Yes, our Rectangle Ottomans are designed to support seating comfortably. However, for our Circular Ottomans, while they can support seating, it's recommended to primarily use them as a footrest. If excess force is applied, the lid may collapse in on itself.

Q: Is assembly required for the ottomans?
A: Yes, our ottomans come flat packed and require minimal assembly, which takes no longer than 30 seconds. We provide easy-to-follow assembly instructions to ensure a quick and hassle-free setup.

View full details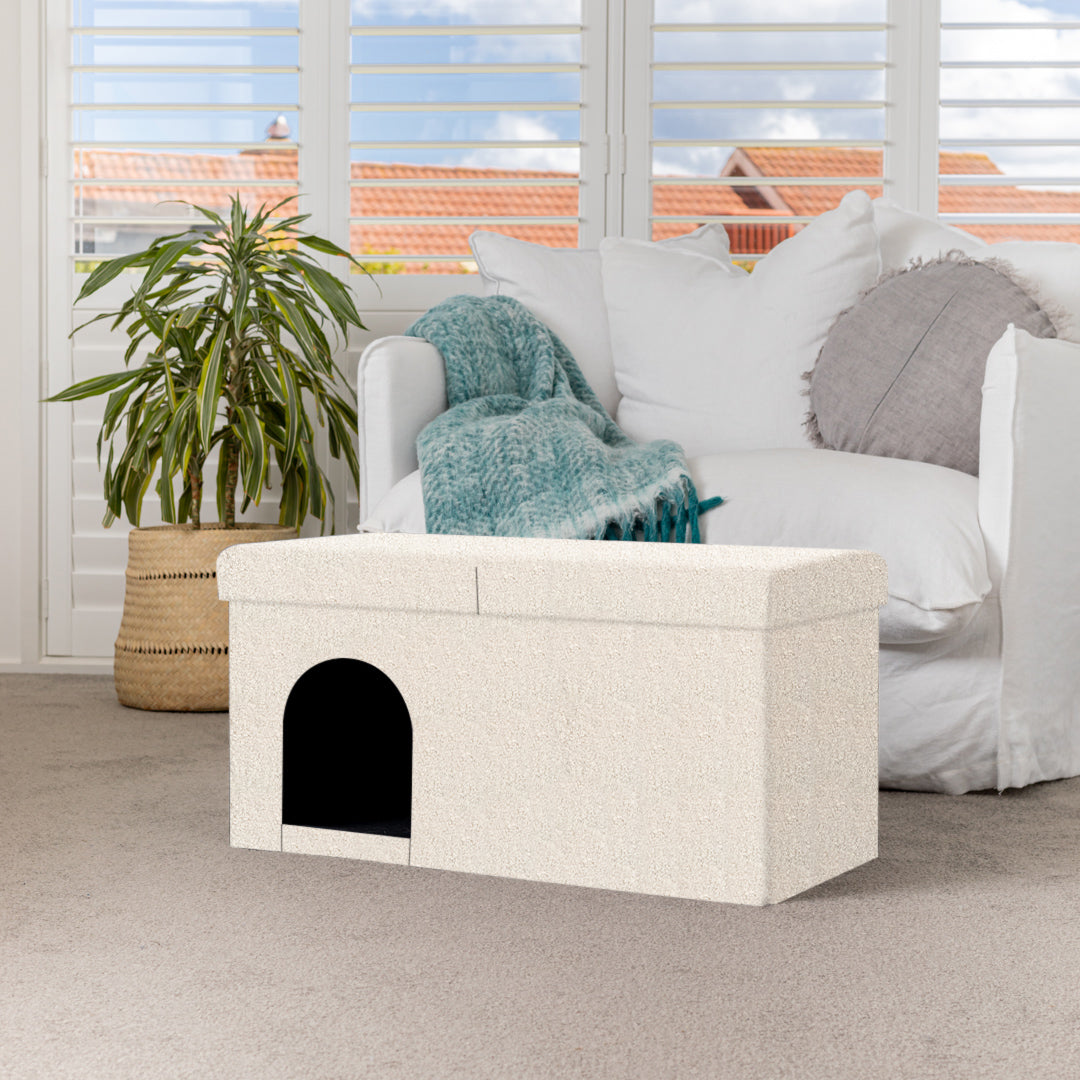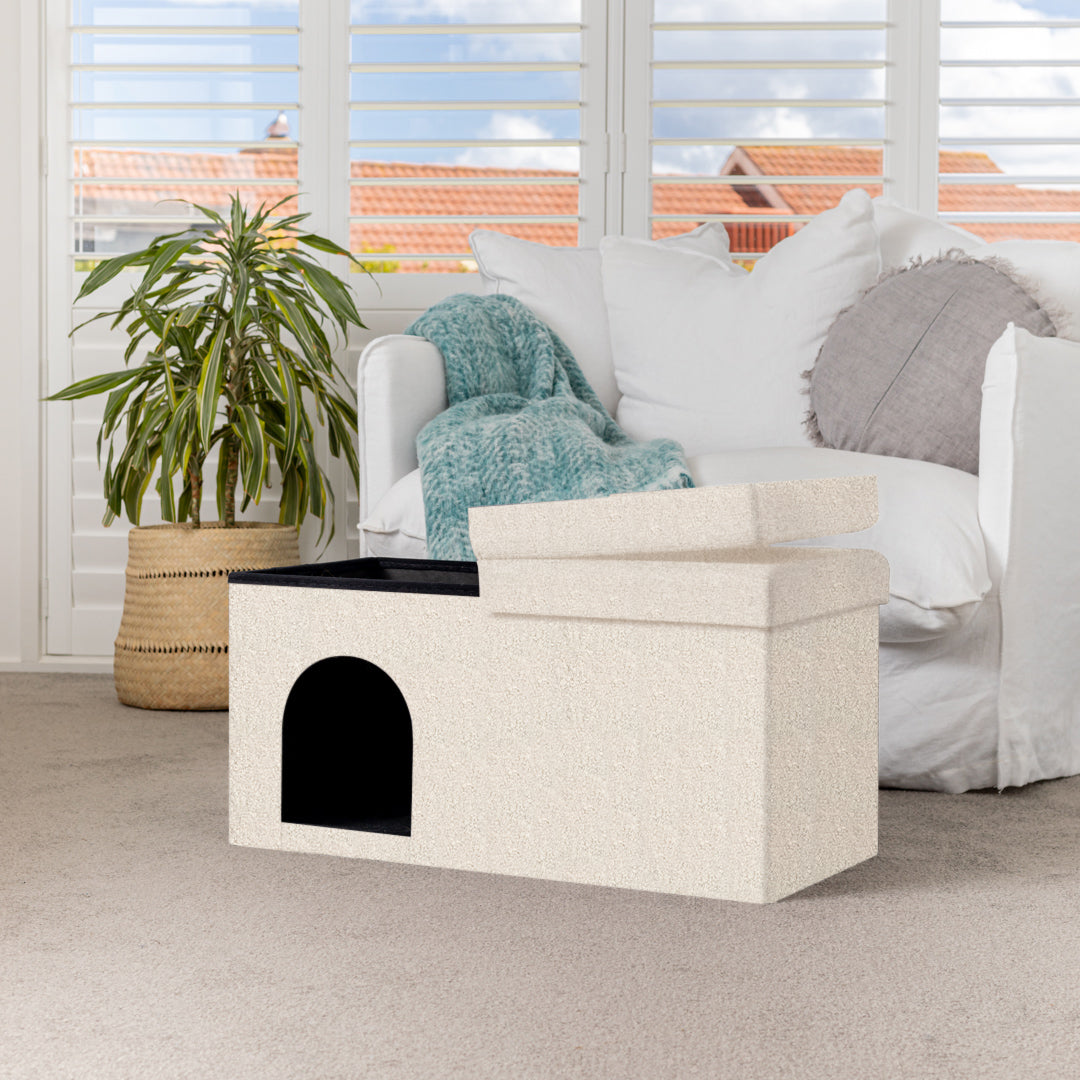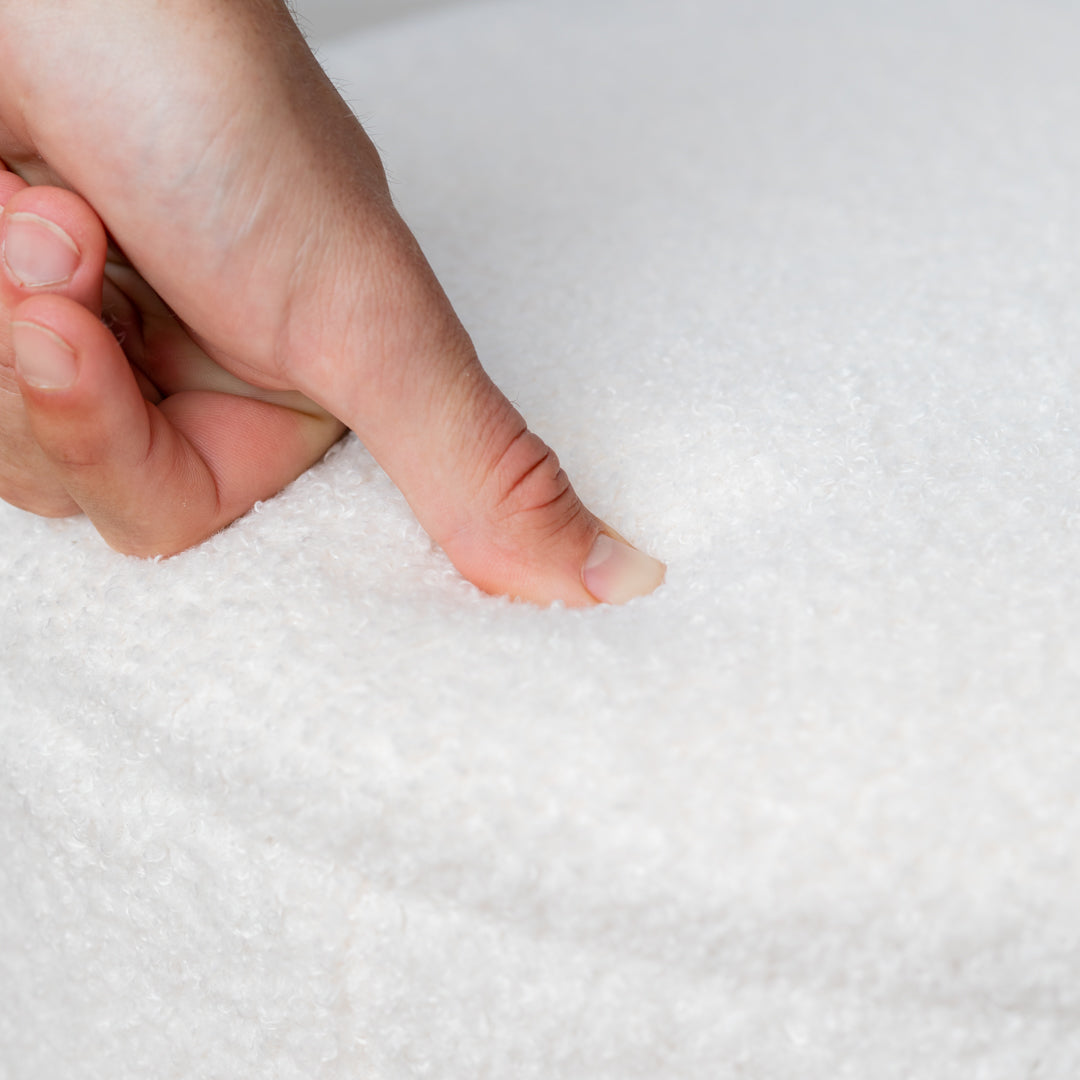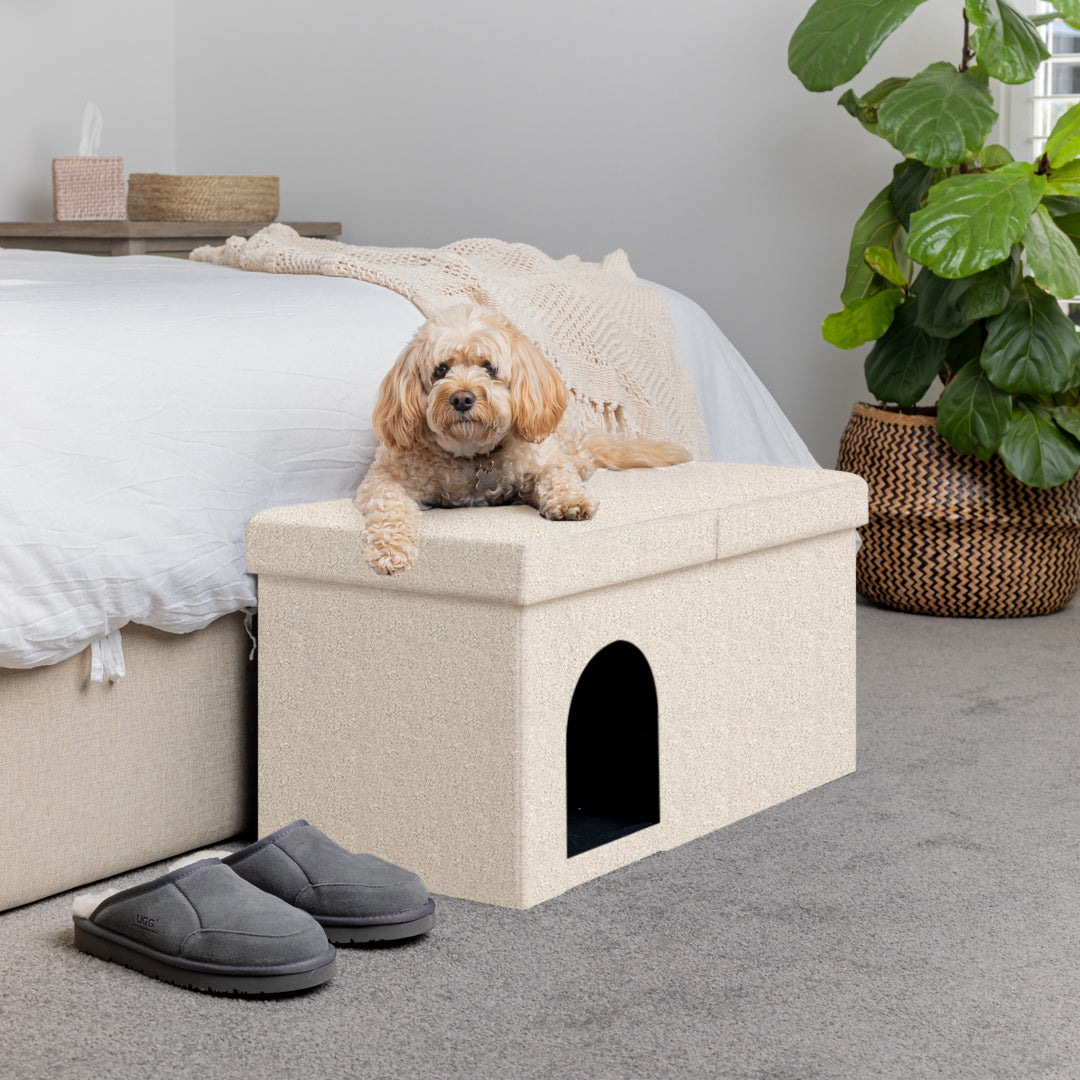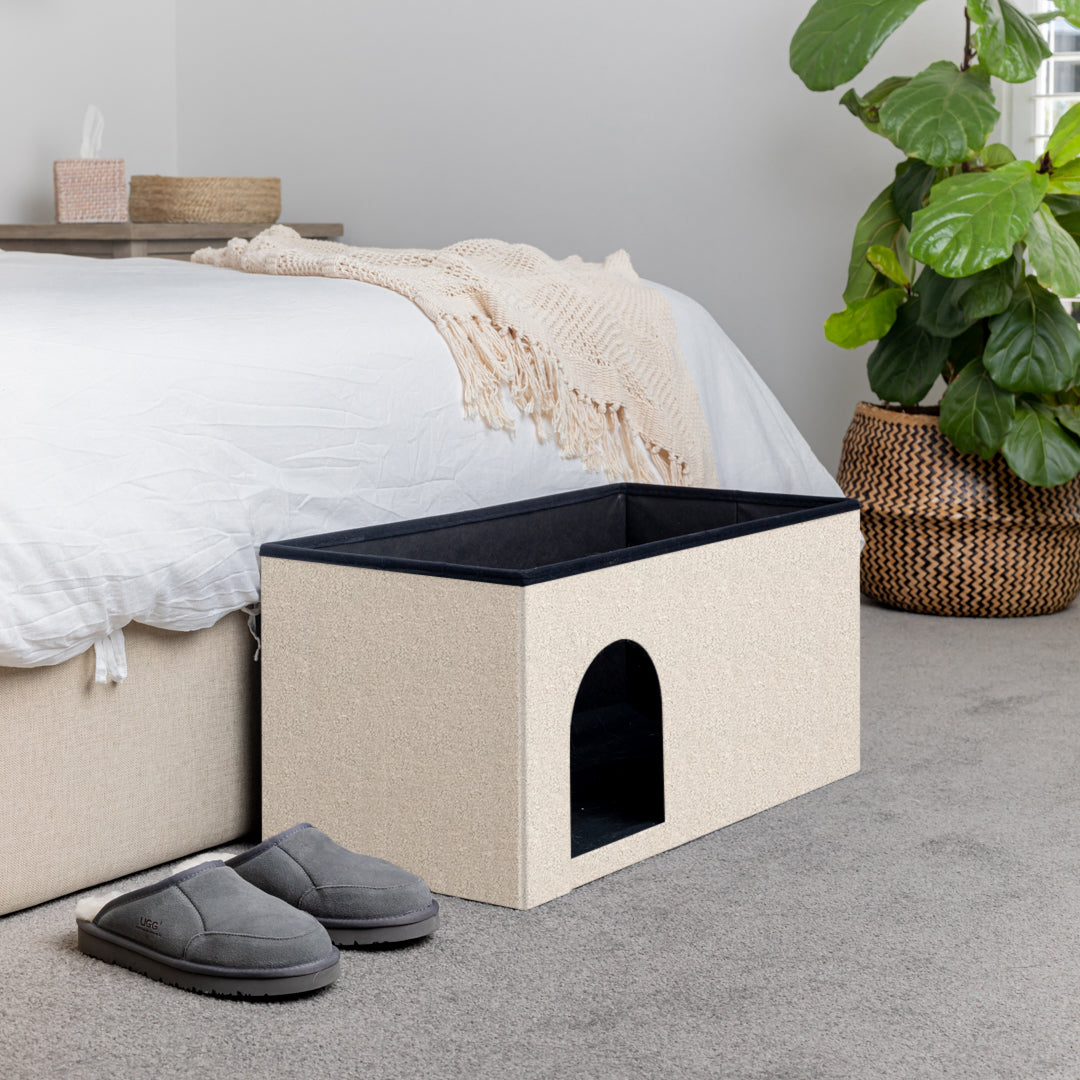 White Boucle Pet Ottoman
My two kittens love the ottoman. The Boucle material makes it look classy%2C but it's also very practical. Love it%21
Great for little legs!
My little Frank can't get up on the big bed by himself so I bought this to help him and he absolutely loves it. It was also quick to arrive, easy to put together and fits with the aesthetic perfectly. Couldn't be happier.